Orientation Week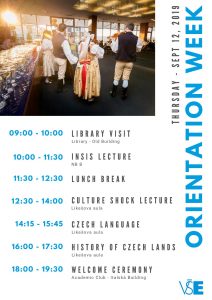 Orientation Week (shortly OWeek) is organized for all incoming international students during one week prior beginning of the Academic year. Generally, students get familiar with the University, the city of Prague and Czech culture. They gain necessary information for their start at the Prague University of Economics and Business and in the Czech Republic.
The OWeek for the upcoming academic year will take place from 11th to 13th September 2019.
See this website to get the most updated information regarding the Orientation Week 2019.
Generally about the ODays
WEDNESDAY – First day is considered as the most important day for all the international incoming students. It is known as a Registration Day, students are asked to come to the University to register to the given study programme and to the student organization ESN Buddy System and pick up important documents as well as University ID card.
THURSDAY – Second day contains lectures about InSIS (Students Information System), Cultural Shock and Czech History Presentations. In the afternoon students are invited to the official Welcome Ceremony where they are welcomed by the Rector of the University and the refreshment is prepared for them.
FRIDAY – Third day is devoted to students, who need a visa in order to live and study in the Czech Republic. Lectures organized by an NGO "Slovo21" are called "Welcome in the Czech Republic" and can be shortly introduced as "all you need to know about your visa".