Minor Specialization
NextGen Consulting
The minor specialization NextGen Consulting focuses on the active search for opportunities for the successful development of existing companies. Its goal is to develop strategic and creative thinking as a key aspect of successful growth and performance of the company.
Businesses are today facing new challenges that are associated with complex problems, often without any connection to the past. In this minor specialization we will teach you how to deal with it, i.e.:
how to be more generalist and see what we call "big picture",
how to solve problems from a multidisciplinary point of view and come up with ideas that are creative, or use, for example, analogies from other businesses,
how to connect corporate, social and ecological sustainability of businesses.
The minor specialization also pays due attention to family businesses, which are the most common type of organization in many economies, and where we can see the strategic importance of connecting family and business issues.
Key knowledge and skills in compulsory courses are further developed by a balanced combination of elective courses focused on critical thinking, analytical and communication skills.
Graduates could find jobs in consulting companies, in-house consulting departments, but also as managers and successors in family businesses.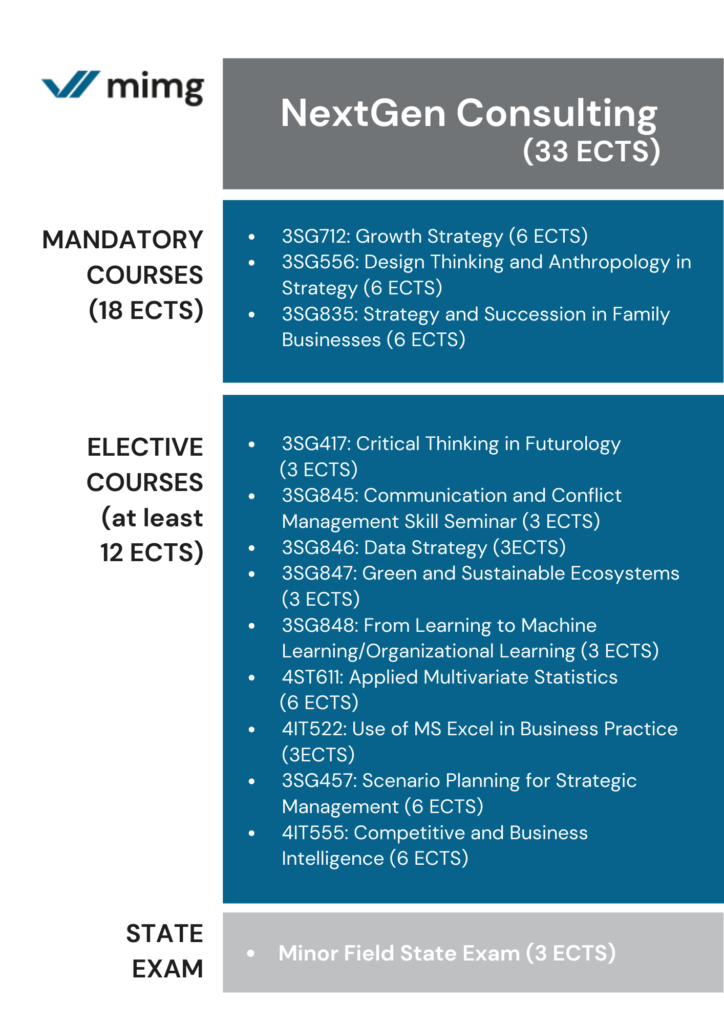 Key elements of NextGen Consulting
Courses are:
Based on real-life business projects
Highly practically oriented
Designed to foster creativity
Using gamification features
Taught by practitioners and academics
Almost in every course based on team projects and cooperation
Key benefits:
Certified programme by Corporate partners
Community and networking
NextGenClub
International students and lecturers from abroad or with International experience
Company visits
Final exam:
Organized as a case study presentation
Open book
Delivered in front of Corporate partners
Students receive not only grade but also a valuable feedback
Our corporate partners who actively participate in minor specialization courses are:
Strategic board members of Family Business Centre
Minor Specialization Consulting
Watch the video on minor specialization Consulting we have prepared in cooperation with our students and corporate partners participating in the lessons and case studies. (English subtitles available in settings.)
Marketing
In minor specialization Marketing, you will learn how to answer the following key marketing questions, which are in the core of any business:
Do I understand my customers and the market?
Who are the most profitable customers?
Which unique value can I offer them?
How will I communicate this value?
How will I deliver the value?
How will I make a profit?
How will I innovate my business?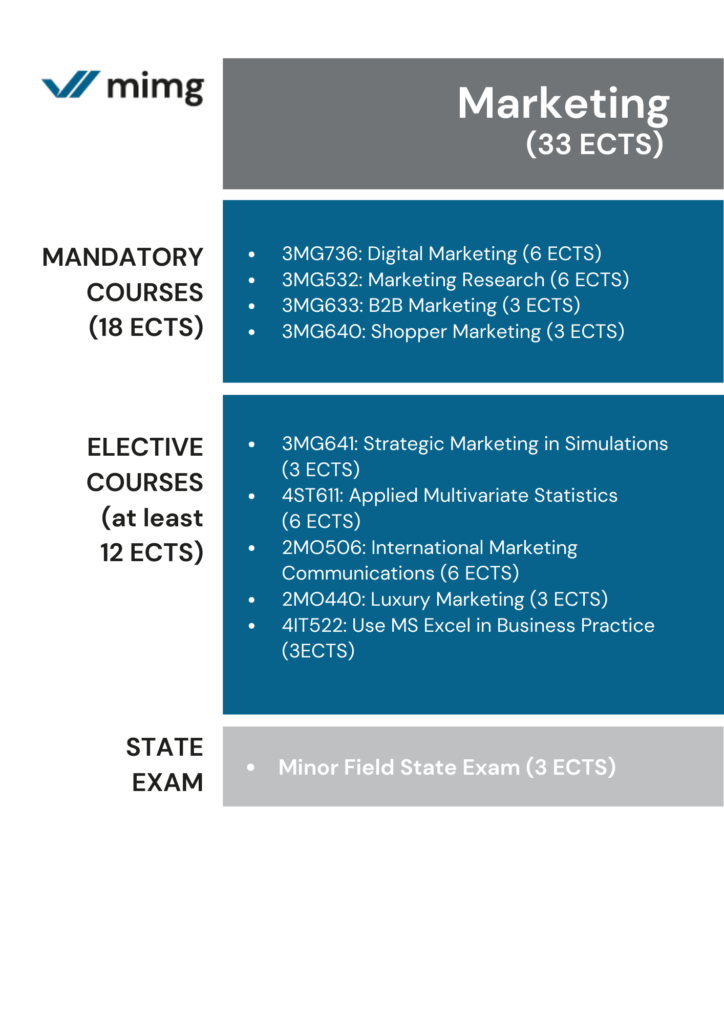 Key benefits of Marketing
Instructors are
practising managers or teachers with strong practical experience.
Courses are
based on real-life business projects.
We use
innovative teaching methods, such as Markstrat simulation games.
You will learn
how to use marketing tools and software in practice, often in the environment of the partner companies.
You will get
real-life feedback from people who are successful in the world of business.
Our corporate partners who actively participate in minor specialization courses are: