Welcome Weekend 2018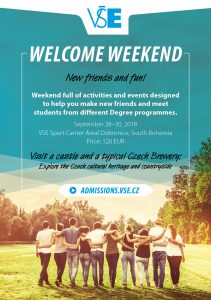 Welcome Weekend is a weekend full of activities and events designed to help incoming students get familiar with VSE, make new friends, acquire advice for academic success as well as to meet students from different Degree programmes at VSE. Some activities are designed to introduce life at VSE and smoothen a student's start of studies. Other activities are optional based on a student's interests and needs.
Participants can look forward to visiting a castle and a typical Czech Brewery.
More info and application form can be found here: https://admissions.vse.cz/current-students/welcome-weekend/.